U14 Summer Slam

U14 Summer Slam
13th-15th June 2014, Stirling
News Report
Our Scotland U14 Girls!
06/06/14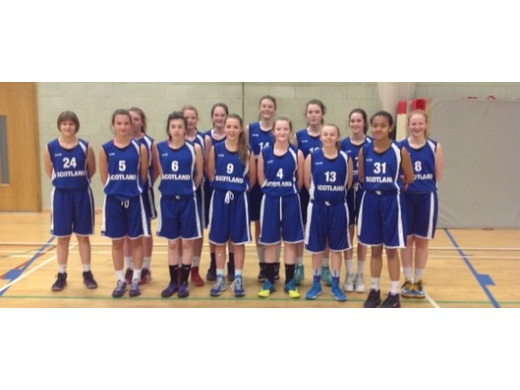 The FIBA Europe U14 International Summer Slam 2014 in association with iomart will include the FIBA U14 Summer Slam and Scotland Senior Men appearance at The Peak at Stirling's Sports Village, next 13-15th of June 2014.
Ahead of the tournament which will see teams from across Europe competing with one another, we would like to present to you the U14 girls who will be flying the flag for Scotland, how they each got involved in the game and their advice.
For photos click on the player's name
Megan Jones, Ayr Storm
Megan began playing the sport at the latter half of last year and describes meeting new people through basketball as one of the most important parts of the game. A relative newcomer to the game she says that she would most like to gain more experience in order to improve and "can't wait" to begin playing for the National Development Team. Her words of encouragement to other young people considering taking up basketball are "Give it a try! You never know, you might enjoy it!"
Maisie Huey, basketballpaisley
Maisie was introduced to basketball in P7 after a P.E. teacher suggested that she attend practise with her local club, the Houston Hornets. She says that through taking part in the sport she has made friends for life and has enjoyed learning new skills and keeping fit by playing. Upon being selected for the National squad, she said she "felt honoured to have been selected as one of the 12 players to represent her country." Her advice to newcomers is to keep practising and "keep at it, because you never know where basketball might get you!"
Tia Davies, City of Edinburgh Kool Kats
Tia was inspired to come along to a training session with City of Edinburgh after a coach from the team visited her school. Already a fan of the sport, she was hooked after one session with the club. "Basketball is such a great sport as it is very expressive and helps you with your social and physical skills. It brings you a lot closer to people all over the country and helps with a lot of career opportunities" she explained. Ahead of the Summer Slam tournament she is relishing the opportunity to represent her country in front of a large home support.
Rebecca Morrison, Ayr Storm
Rebecca began taking a serious interest in basketball in November last year after being advised to play after school by a P.E. teacher in 2012. She values the friendships she has made through the sport as she says "I was never really up for trying new things by myself or without a friend to talk to." If given a sponsor she said she "would thank them by giving them as much publicity as possible by advertising their logo and promoting their company" in addition to visiting them or volunteering to help out. Her words to youngsters about getting involved are: "I would say that basketball is a good way to meet new people and it gives people a chance to travel. It's enjoyable exercise and it gives children the opportunity to develop their teamwork and social skills."
Celina Eisenhardt, City of Edinburgh Kool Kats
Celina got involved in the sport through the Active Schools program in 2012 when she was still in P5. Always looking to improve she says that she wants to get better at all aspects of her game and is looking to take advantage of the advice she'll get from the coaches of the Scotland team during her time on the National Development Team. In addition to meeting new people, she ranks learning life skills that will enhance career prospects as one of the reasons for young people to get involved with the sport.
Alix Henderson, Highland Bears
Alix considered herself an all-rounder who was interested in all sports; she caught the bug for basketball in 2011 when she volunteered for her P7 school team which was short of players. She enjoyed the experience so much that she joined her local team and has been playing ever since. She considers some of her teammates to be close friends who she has the sport to thank for meeting. She says that she's excited to have the opportunity to represent Scotland in addition to continuing to develop her skills as a player by competing against the best in her age group. Her advice to youngsters who may be interested in starting in the sport is that "They will stay fit and healthy, and have great fun at the same time!"
Erynn Legge, West Lothian Wolves
Erynn got involved with basketball through her older brother, playing with the Perth Phoenix U14 boys' team that he coaches. She feels that having always trained with boys until this year has helped her to become a stronger player. Having already represented Scotland at U12 and U13 level she is delighted to have once again been chosen to play for her country again this year. She says that there are many different opportunities that basketball can provide for any prospective young player looking to get involved with the sport.
Niamh Macleod, basketballpaisley
Niamh has already been involved in the sport for half a decade, tagging along to a training session with a friend in 2009 because she thought basketball looked fun. Since then she says she has made friends who are very special to her and that she's keeping fit by taking part in a sport that she really enjoys. She's particularly happy that the Summer Slam is in Scotland this year because her family and friends will be able to come along to cheer her on which is something they could not do when she previously played abroad.
Sian Phillips, Polonia Phoenix
Sian started playing basketball for her school team in 2011 because one of her good friends already took part. Among the many emotions she felt at being selected to play for Scotland, she said she was excited, honoured, looking forward to playing with the team and keen to do well. Sian says that she would use social media to promote any potential sponsors in addition to keeping them updated with her progress in the squad and at the Summer Slam this June.
Imogen Cook, East Lothian Dragons
Imogen was already avidly interested in sports when she turned to basketball three years ago at the advice of her friend after she was unable to continue playing rugby due the lack of a local girls' team. In addition to making new friends through the sport, she hopes to one day gain a scholarship with basketball in order to fully develop as a player as well as potentially have the chance to get a career in a sport she has grown to love. She would like to thank any potential sponsors for supporting Basketball Scotland that will help to develop future players and promote the sport throughout the country. Imogen says that new players can become more confident if they take up the sport through making new friends and using communication skills while playing the game.
Roko Bolatiki, West Lothian Wolves
Roko was mesmerised by the flashy tricks that she saw referees and coaches perform when she was representing her school at a P7 basketball tournament, inspiring her to take a serious interest in the game. She values the chance to work as part of a team while keeping fit and making friends with girls from all over Scotland. She is most looking forward to bonding with her fellow Scotland team mates as they compete against other countries this year and says that there would be no words to describe her gratitude to receive support from a sponsor if she were to get one.
Emma Hancock, basketballpaisley
Emma was encouraged by her friends to start playing for her local team, the Houston Hornets between the end of primary school and the beginning of secondary. She takes great pleasure in meeting new people in addition to playing alongside her friends as part of the sport. Upon hearing she was picked for the Scotland team she said she was rendered speechless, describing it as "a very happy moment in my life." She says she wants to personally tell any young people looking to get involved in basketball about the many benefits and achievements they can make in addition to the people they could meet.
Ruth Patterson, East Lothian Dragons
Ruth began playing in October 2012 as her club had only just started up and her friends recommended that she should join. Ever since, she says that she can't imagine not playing after making friends and becoming part of a close team. Being selected for the Scotland squad has made her determined to develop into the player that she wants to be under the best coaches in Scotland as well as playing alongside some of the best girls in the country at U14 level. She says: "I would say to youngsters that basketball is a great way to make friends, keep fit, develop new skills and, most importantly, have fun."
Ruth Allison, Stirling Knights
Ruth began playing after watching her friends take part in the Jump To It competition two and a half years ago. She felt that she had missed out when she witnessed the atmosphere at the tournament final and so joined her school team at Wallace High before training with the Knights. As part of the Young Leaders programme, Ruth is already coaching players at lower age groups and says that she values the bonds that she has made with her team mates who she has become very close to. She describes the opportunities that basketball has provided her as "unimaginable" and insists that any person looking to pick up the sport will find it as fun and rewarding as she has done so far.
More information about the tournament here
Join the event in Facebook, get your tickets and tweet or instagram #basketballscotland #scotlandas1!
Follow the league to get the latest news and results straight to your email