U14 Summer Slam

U14 Summer Slam
13th-15th June 2014, Stirling
News Report
Scotland U14 Boys 50-80 Horta U14 Boys
14/06/14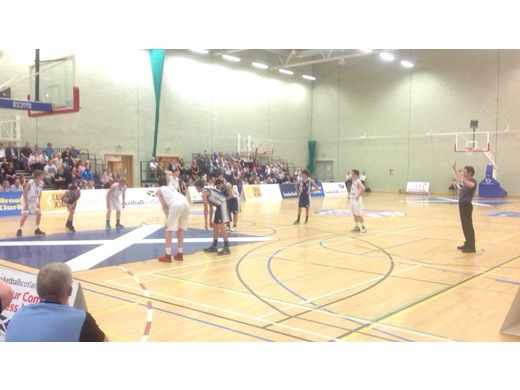 In what was surely the "final before the final" the two strongest performing teams of the competition went up against each other in a tantalising contest. The game exploded into action as Horta raced into a 1-10 lead after taking advantage of some early turnovers made by Scotland. The visitors continued to put numbers up on the board as Oriol Ruis Gimenez made some strong offensive rebounds. David Ojabo was on hand to help Scotland keep up with the early pace, sinking an impressive hook shot at one point. Harry Morrice, not to be outdone produced the first dunk of the competition. The home side still had some way to go in catching up with the Catalonians who started so strongly as the opening quarter ended 11-28.
The second quarter was a complete inverse of the first, Scotland scored twice in quick succession following a turnover committed by Hortas before closing the gap to single figures. A three pointer from Marti Guardia of Horta seemed to halt the home side's momentum as Scotland continued to rebound well. Another three pointer from Jesus Perez Mir of Horta was indicative of the visitor's determination to stay in front of their hosts. This effort saw them maintain a 25-41 lead going into the half time break.
After the restart, Horta continued to be accurate from three point range, or anywhere they chose to shoot from for that matter. They also managed to defend extremely well, stretching their lead to 25 points at one stage. Scotland continued to concede points on turnovers as they strived to find a way back into the game. As the quarter continued it seemed that nothing would fall for Scotland while Horta continued to score despite a strong defensive showing from David Ojabo who made multiple blocks and rebounds. Horta led 37-61 at the end of the third.
Ojabo converted a three point play to start the final quarter as Scotland continued to try to grab a foothold in the game. Joaquim Llorente sank another three pointer for Horta as they showed an excellent consistency in their shooting. This continued until the visitors eventually ran out 50-80 winners with a blockbuster of a rematch set for tomorrow!
Follow the league to get the latest news and results straight to your email