U14 Summer Slam

U14 Summer Slam
13th-15th June 2014, Stirling
News Report
UE Horta winners of the FIBA Europe International Summer Slam
15/06/14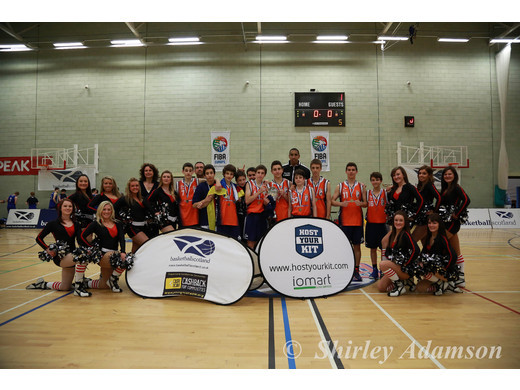 In the first quarter Horta held the first lead going up 4-0 with the press not appearing to faze the Scotland side they answered back to take a 9-6 lead. Altough that lead was short lived as for the remainder of the quarter Hortas held the lead the quarter finshed 25-18 in their favour.
Going into the second quarter Scotland struggled with the press a Hortas continued to stretch the lead with their unselfish play. Altough they did struggle with the pressure when they broke press big men Harry Morrice and David Ojabo were scoring with 10 and 12 points. As Hortas extended their lead to 12 at the half.
A slow start by both teams including many fouls by both teams. This lead to neither team scoring a field goal until Scotland Calum Stewart dropped in a floater with 6:54 remaining in the quarter. This was then the start of Hortas quarter as they hit their first and second of the quarter with 6 minutes remaining. After a great defensive display from both teams a sudden scoring stretch emerged as Scotland continued to look dangerous Hotra continued to play great team basketball and hold a 17 point lead. At the end of quarter the score was 62-42.
Scotland started the quarter strong as baskets from Calum Stewart and Blair Stobbart cut the lead to 16 with 8 minutes to go. After a missed free throw from Calum Stewart , Blair Stobbart grabbed the rebound and finished it off cutting the lead even further to 12 points with 7 minutes to go. Scotland stepped up their defence and looked to press but found difficulties scoring although were still able to cut into the lead once more forcing Hortas into a timeout now up just 10 with 5 minutes to go. Big man David Ojabo managed to clean up on a free throw for an and-one opportunity but was unable to convert with 2 minutes to go Horta up 8 before a steal and finish from forward Mitchell Stirling cut it to 6. An and one from Calum Stewart cut the lead to 5. A three pointer from Stewart then made it a 5 point game with 2.3 seconds remaining. The game then ended with Horta holding on for a 76-71 win.
Follow the league to get the latest news and results straight to your email